Espíritu Santo, el Agente de Cambio
April 21, 2023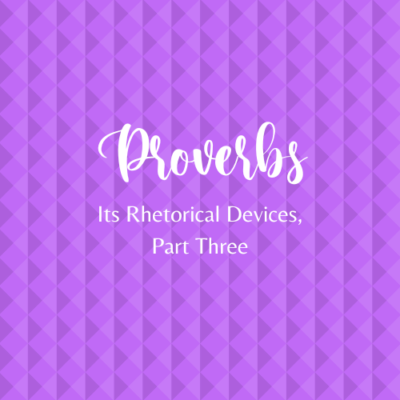 Proverbs – Its Rhetorical Devices, Part Three by Loretta Huggins 
April 28, 2023
ZChurch message for April 22, 2023 (full service at • Holy Spirit Agent… )
Pastor Loretta Huggins shares who the Holy Spirit is and what he does in our lives. The Holy Spirit is the agent of change who makes the weak strong and the timid bold. This message is based on Pastor Loretta's book, "Holy Spirit, Agent of Change," available at Amazon here www.amazon.com/dp/194910687X
_______________
John 14:16-17 KJV 16 And I will pray the Father, and he shall give you another Comforter, that he may abide with you for ever; 17 Even the Spirit of truth; whom the world cannot receive, because it seeth him not, neither knoweth him: but ye know him; for he dwelleth with you, and shall be in you.
John 16:7 Nevertheless I tell you the truth; It is expedient for you that I go away: for if I go not away, the Comforter will not come unto you; but if I depart, I will send him unto you.
John 16:13-15 KJV 13 Howbeit when he, the Spirit of truth, is come, he will guide you into all truth: for he shall not speak of himself; but whatsoever he shall hear, that shall he speak: and he will shew you things to come 14 He shall glorify me: for he shall receive of mine, and shall shew it unto you. 15 All things that the Father hath are mine: therefore said I, that he shall take of mine, and shall shew it unto you.
Matthew 3:16 (Voice) Jesus emerged from His baptism; and at that moment heaven was opened, and Jesus saw the Spirit of God descending like a dove and coming upon Him, alighting on His very body.
Hebrews 9:14 How much more shall the blood of Christ, who through the eternal Spirit offered Himself without spot to God, purge your conscience from dead works to serve the living God?
Colossians 1:19 For it pleased the Father that in him should all fulness dwell.
Colossians 2:9 For in Christ dwelleth all the fulness of the godhead bodily.
Colossians 3:13-14 Christ hath redeemed us from the curse of the law, being made a curse for us: for it is written, Cursed is every one that hangeth on a tree: 14 that the blessing of Abraham might come on the Gentiles through Jesus Christ; that we might receive the promise of the Spirit through faith.
John 18:25-27 And Simon Peter stood and warmed himself. They said therefore unto him, Art not thou also one of his disciples? He denied it, and said, I am not. 26 One of the servants of the high priest, being his kinsman whose ear Peter cut off, saith, Did not I see thee in the garden with him? 27 Peter then denied again: and immediately the cock crew.
Acts 4:7-13 7 And when they had set them in the midst, they asked, By what power, or by what name, have ye done this? 8 Then Peter, filled with the Holy Ghost, said unto them, Ye rulers of the people, and elders of Israel, 9 If we this day be examined of the good deed done to the impotent man, by what means he is made whole; 10 Be it known unto you all, and to all the people of Israel, that by the name of Jesus Christ of Nazareth, whom ye crucified, whom God raised from the dead, even by him doth this man stand here before you whole. 11 This is the stone which was set at nought of you builders, which is become the head of the corner. 12 Neither is there salvation in any other: for there is none other name under heaven given among men, whereby we must be saved. 13 Now when they saw the boldness of Peter and John, and perceived that they were unlearned and ignorant men, they marveled; and they took knowledge of them, that they had been with Jesus.
Matthew 14:28-32 And Peter answered him and said, Lord, if it be thou, bid me come unto thee on the water. 29 And he said, Come. And when Peter was come down out of the ship, he walked on the water, to go to Jesus. 30 But when he saw the wind boisterous, he was afraid; and beginning to sink, he cried, saying, Lord, save me. 31 And immediately Jesus stretched forth his hand, and caught him, and said unto him, O thou of little faith, wherefore didst thou doubt? 32 And when they were come into the ship, the wind ceased. 33 Then they that were in the ship came and worshipped him, saying, Of a truth thou art the Son of God.
Acts 12:6-9 6 And when Herod would have brought him forth, the same night Peter was sleeping between two soldiers, bound with two chains: and the keepers before the door kept the prison. 7 And, behold, the angel of the Lord came upon him, and a light shined in the prison: and he smote Peter on the side, and raised him up, saying, Arise up quickly. And his chains fell off from his hands. 8 And the angel said unto him, Gird thyself, and bind on thy sandals. And so he did. And he saith unto him, Cast thy garment about thee, and follow me. 9 And he went out, and followed him; and wist not that it was true which was done by the angel; but thought he saw a vision.
Luke 22:31-34 (KJV) 31 And the Lord said, Simon, Simon, behold, Satan hath desired to have you, that he may sift you as wheat: 32 But I have prayed for thee, that thy faith fail not: and when thou art converted, strengthen thy brethren. 33 And he said unto him, Lord, I am ready to go with thee, both into prison, and to death. 34 And he said, I tell thee, Peter, the cock shall not crow this day, before that thou shalt thrice deny that thou knowest me.
John 21:15-17 So when they had dined, Jesus saith to Simon Peter, Simon, son of Jonas, lovest thou me more than these? He saith unto him, Yea, Lord; thou knowest that I love thee. He saith unto him, Feed my lambs. 16 He saith to him again the second time, Simon, son of Jonas, lovest thou me? He saith unto him, Yea, Lord; thou knowest that I love thee. He saith unto him, Feed my sheep. 17 He saith unto him the third time, Simon, son of Jonas, lovest thou me? Peter was grieved because he said unto him the third time, Lovest thou me? And he said unto him, Lord, thou knowest all things; thou knowest that I love thee. Jesus saith unto him, Feed my sheep.
Acts 1:8 But ye shall receive power, after that the Holy Ghost is come upon you: and ye shall be witnesses unto me both in Jerusalem, and in all Judaea, and in Samaria, and unto the uttermost part of the earth.
Psalm 127:2 It is vain for you to rise up early, to sit up late, to eat the bread of sorrows: for so he giveth his beloved sleep.