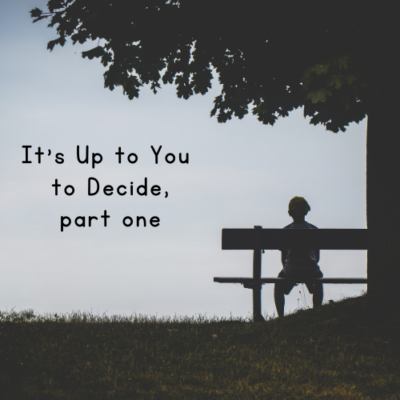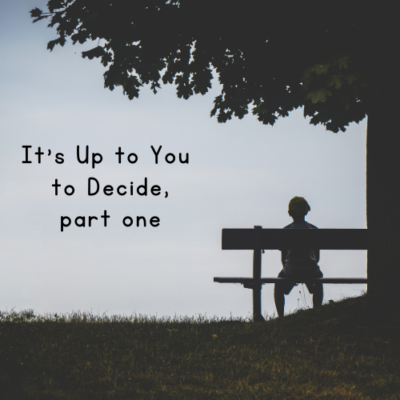 It's Up to You to Decide by Loretta Huggins
July 13, 2023
______________
Chris Holm – God's Grocery Store
Luke 12:48b KJV …For unto whomsoever much is given, of him shall be much required: and to whom men have committed much, of him they will ask the more.
John 5:24 Verily, verily, I say unto you, He that heareth my word, and believeth on him that sent me, hath everlasting life, and shall not come into condemnation; but is passed from death unto life.
Romans 3:23 For all have sinned, and come short of the glory of God.
Romans 3:10-12 KJV As it is written, there is none righteous, no, not one: 11 There is none that understandeth, there is none that seeketh after God. 12 They are all gone out of the way, they are together become unprofitable; there is none that doeth good, no, not one.
Romans 3:19-24 Now we know that what things soever the law saith, it saith to them who are under the law: that every mouth may be stopped, and all the world may become guilty before God. 20 Therefore by the deeds of the law there shall no flesh be justified in his sight; for by the law is the knowledge of sin. 21 But now the righteousness of God without the law is manifested, being witnessed by the law and the prophets; 22 Even the righteousness of God which is by faith of Jesus Christ unto all and upon all them that believe: for there is no difference: 23 For all have sinned, and come short of the glory of God; 24 being justified freely by his grace through the redemption that is in Christ Jesus;
Christine Smith: The Reverent Fear Of The Lord
Ps. 65:1 AMPC To You belongs silence (the submissive wonder of reverence which bursts forth into praise) and praise is due and fitting to You, O God, in Zion; and to You shall the vow be performed.
Ps. 25: 12-14 AMPC 12 Who is the man who reverently fears and worships the Lord? Him shall He teach in the way that he should choose. 13 He himself shall dwell at ease, and his offspring shall inherit the land. 14 The secret [of the sweet, satisfying companionship] of the Lord have they who fear (revere and worship) Him, and He will show them His covenant and reveal to them its [deep, inner] meaning.
Heb. 5:7 AMPC In the days of His flesh [Jesus] offered up definite, special petitions [for that which He not only wanted but needed] and supplications with strong crying and tears to Him Who was [always] able to save Him [out] from death, and He was heard because of His reverence toward God [His godly fear, His piety, in that He shrank from the horrors of separation from the bright presence of the Father].
Ex. 1:15-21 AMPC 15 Then the king of Egypt said to the Hebrew midwives, of whom one was named Shiprah and the other Puah, 16 When you act as midwives to the Hebrew women and see them on the birthstool, if it is a son, you shall kill him; but if it is a daughter, she shall live. 17 But the midwives feared God and did not do as the king of Egypt commanded, but let the male babies live. 18 So the king of Egypt called for the midwives and said to them, Why have you done this thing and allowed the male children to live? 19 The midwives answered Pharaoh, Because the Hebrew women are not like the Egyptian women; they are vigorous and quickly delivered; their babies are born before the midwife comes to them. 20 So God dealt well with the midwives and the people multiplied and became very strong. 21 And because the midwives revered and feared God, He made them households [of their own].
Exodus 3:5 And he said, Draw not nigh hither: put off thy shoes from off thy feet, for the place whereon thou standest is holy ground.
Joshua 5:14-15 And he said, Nay; but as captain of the host of the Lord am I now come. And Joshua fell on his face to the earth, and did worship, and said unto him, What saith my lord unto his servant? 15 And the captain of the Lord's host said unto Joshua, Loose thy shoe from off thy foot; for the place whereon thou standest is holy. And Joshua did so.
Psalm 115:11 AMP You who reverently fear the Lord, trust in and lean on the Lord: He is their help and their shield.
Psalm 31:19 AMP How great is Your goodness, which You have stored up for those who reverently fear You, which You have prepared for those who take refuge in You Before the sons of man!
Proverbs 1:7 AMPC The reverent and worshipful fear of the Lord is the beginning and the principal and choice part of knowledge [its starting point and its essence]; but fools despise skillful and godly Wisdom, instruction, and discipline.
Proverbs 2:1-5 AMPC My son, if you will receive my words and treasure up my commandments within you, 2 Making your ear attentive to skillful and godly Wisdom and inclining and directing your heart and mind to understanding [applying all your powers to the quest for it]; 3 Yes, if you cry out for insight and raise your voice for understanding, 4 If you seek [Wisdom] as for silver and search for skillful and godly Wisdom as for hidden treasures, 5 Then you will understand the reverent and worshipful fear of the Lord and find the knowledge of [our omniscient] God.
Joseph Quaizon: Say What We Watch
Proverbs‬ ‭18‬:‭21‬ ‭NKJV Death and life are in the power of the tongue, And those who love it will eat its fruit.
‭‭Ephesians‬ ‭4‬:‭29‬ ‭NKJV‬‬ Let no corrupt word proceed out of your mouth, but what is good for necessary edification, that it may impart grace to the hearers.
Psalm 34:8 O taste and see that the Lord is good: blessed is the man that trusteth in him.
1 Corinthians 1:31 NKJV That, as it is written, "He who glories, let him glory in the Lord.
1 Corinthians 1:31 NIV Therefore, as it is written: "Let the one who boasts boast in the Lord."
Romans 1:16 NKJV For I am snot ashamed of the gospel of Christ, for it is the power of God to salvation for everyone who believes, for the Jew first and also for the Greek.
1 Corinthians 1:18 NKJV For the message of the cross is foolishness to those who are perishing, but to us who are being saved it is the power of God.

‭‭
‭‭