Hoy Se Está Gestando Un Milagro Para Ti/ Gustad, Y Ved Que El Señor Es Bueno
November 2, 2023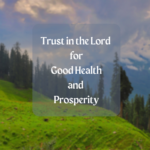 Trust in the Lord for Good Health and Prosperity by Joy Conte
November 9, 2023
ZChurch Message for November 4, 2023 (full service:    • The Greatest Principle: Substitution …  )
Once you grasp the powerful principle of Substitution and Identification, the New Covenant makes perfect sense.
____________
Isaiah 53:4-5 KJV Surely he hath borne our griefs, and carried our sorrows: yet we did esteem him stricken, smitten of God, and afflicted. 5 But he was wounded for our transgressions, he was bruised for our iniquities: the chastisement of our peace was upon him; and with his stripes we are healed.
2 Corinthians 5:21 KJV For he (God) hath made him (Jesus) to be sin for us, who knew no sin; that we might be made the righteousness of God in him.
Ephesians 5:1 BE ye therefore followers (imitators) of God, as dear children;
2 Corinthians 8:9 KJV For ye know the grace of our Lord Jesus Christ, that, though he was rich, yet for your sakes he became poor, that ye through his poverty might be rich.
2 Timothy 1:7 KJV For God hath not given us the spirit of fear; but of power, and of love, and of a sound mind.
Ephesians 2:13-14 KJV But now in Christ Jesus ye who sometimes were far off are made nigh by the blood of Christ. 14 For he is our peace, who hath made both one, and hath broken down the middle wall of partition between us;
Hebrews 1:9 KJV Thou hast loved righteousness, and hatest iniquity; therefore God, even thy God, hath anointed thee with the oil of gladness above thy fellows.
Philippians 4:13 I can do all things through Christ which strengtheneth me.