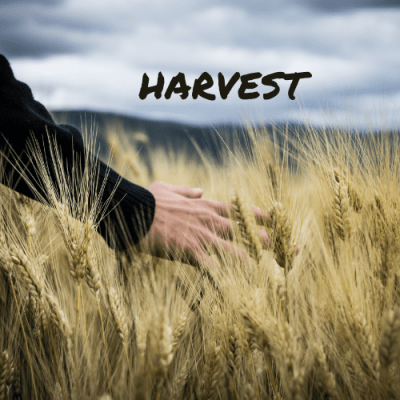 Harvest by Helen Ivicevich
January 21, 2022
The Day of Grace
January 29, 2022
ZChurch message for January 22, 2022 (see full service at https://youtu.be/p1V0FTxKVEw)
Favour will take you places money can't take you and do things money can't do (In fact, it will prosper you). Pastor Larry knows about divine favour. He walks in favour every day, everywhere he goes. The fastest way to get from where you are to where you want to be is favour! This Saturday, Pastor Larry teaches us how to enjoy supernatural favour.
___________________
Luke 2:52 And Jesus increased in wisdom and stature, and in favour with God and man.
Acts 5:12 For thou, Lord, wilt bless the righteous; with favour wilt thou compass him as with a shield.
1 Corinthians 1:30 But of Him you are in Christ Jesus, who became for us wisdom from God—and righteousness and sanctification and redemption—
Genesis 39:21-23 But the Lord was with Joseph, and showed him mercy, and gave him favor in the sight of the keeper of the prison. 22 And the keeper of the prison committed to Joseph's hand all the prisoners that were in the prison; and whatsoever they did there, he was the doer of it. 23 The keeper of the prison looked not to any thing that was under his hand; because the Lord was with him, and that which he did, the Lord made it to prosper.
Things That Will Prevent You From Having Favor, And Things That Will Help You Get Favor
Rudeness – Learn how to be polite. Treat people nice, be respectful.
Anger – Kindness. Do unto others as you would have them do unto you.
Being opinionated and confrontational – disagree without being disagreeable. No one likes unsolicited advice. Don't be judgmental.
Don't be duplicitous (having a hidden agenda, two-faced) Say what you mean, and mean what you say. Be consistent, dependable.
Don't be lazy or arrogant. Don't operate in fear or insecurity. Confidence is attractive. Smile with your eyes.
Learn how to listen. Don't just try to talk people into doing something. Let them discover what they need to do to help you. Make it easy for them to say yes. Express the need and then pause; wait for them to process it and wait for God to touch their hearts.
Listen, and then let people talk. Listen to what they have to say. Listen with your ears. Listen with your eyes. Look at their heart and soul. Don't be stand-offish. Don't have factions or cliques. Be open to everybody.
Arrogance. "God resists the proud, but gives grace to the humble." (1 Peter 5:5) Learn to have a heart of humility, especially after you start receiving recognition and success.
Be happy. Happy people have more favor. Be kind, be joyful! Jesus didn't come to condemn, He came to seek and save the lost. Manifest graciousness. Don't be judgmental or rejecting of people or their ways. Be accepting of people. Be in unity with singleness of heart.
Be in love with Jesus, and people will want to be in love with Jesus too!
ZChurch vision for 2022 emphasis on EVANGELISM.
Acts 2:46-47 And they, continuing daily with one accord in the temple, and breaking bread from house to house, did eat their meat with gladness and singleness of heart. 47 Praising God, and having favour with all the people. And the Lord added to the church daily such as should be saved.
"Even though you may be in circumstances that are less than desirable, that doesn't mean that God's favor is not working for you. Expect it, expect to have favor. You don't know if favor is going to come from the high or the low, from someone who is seated above or someone seated below. You don't know if they're gonna be rich or poor, but God's got favor for you, that's for sure. It may come from someone you know; it may come from a stranger, someone that you'll never see again, but favor will take you where to go and open the door and get you in. Favor is the coin of the realm. Favor is something money can't buy, and favor is oftentimes what God uses to meet your needs and to give you your supply." ~ Pastor Larry