Written by Prophet/Evangelist Helen Madeline Ivicevich
Those of you who know me, know how unusual it is for me to use my full title to post something. Okay, this is the first time! This is very **IMPORTANT**.
The most precious commodity in the universe is faith. Scientifically, the standard for proof of existence is anything that can be measured; if you study the bible, the only measurable substance is faith. So important is the measure of faith that God decided to give it to every man. The universe tracks us by our Faith. It will attract angelic assistance when placed in the promises of God and when placed in the power of darkness, it will attract demonic intervention. Faith can be spent on whatever our heart desires, it can be increased and diminished, but it can never be revoked. Essentially, God gave us an American Express Centurion credit card with no spending limitations. How it is spent is your freewill, it is paid for by the blood of Jesus.
What if I told you that you can invest faith in something that is 100% the will of God? The full force of heaven will immediately take hold with you to work on behalf of the Kingdom of Heaven. It will thrill your soul, renew your vision, and refresh your first love. Who isn't going to say, "I want to invest in that!"
Let's take a moment to see where many in the body of Christ are investing their faith before I offer my interpretation on where we are today. The world seems insane and unrecognizable, which explains the visceral (gut) response and plans of expedient exodus! Like a fighter pilot in a high-tech plane reaching for the ejector button to blast them out of the cockpit into the abyss! Thank God for the rapture! But, wait! THE RAPTURE IS CONDITIONAL, NOT FAITH-BASED! Yet, I understand that looking at the world today, it seems everything is lining up to end-time prophecy. It must be coming soon.
As a praying prophet/evangelist, let me tell you what I am hearing from God. All we see today is a preview of coming attractions. We all have been stunned by how quickly the world can change, staggering really, but still, God has a plan. I am watching as people stand up for their rights and prepare to vote many of these people out of office. If the antichrist were in power, there would be no Elections; a one-world government would be established. It is coming, but its time has not yet come.
What is the unfulfilled condition in which God has promised we can be co-laborers with Him by investing our faith? God is waiting for the precious fruit of the harvest; when He is satisfied, He will speak into the universe to let the end times begin.
So, while we may feel like we are doing something constructive, the reality is that if we're praying for the Rapture of the church, in some ways, we are not using our prayer time and our faith at an optimum level in agreement with God. We need to be preparing for the greatest harvest in the history of man. We need to be preparing our people as Soul Winners.
What is next for the church – a victorious move of the Holy Spirit! It will be so amazing that we will find ourselves walking in our "normal," the supernatural. While preaching in Orangevale, California, at the beginning of the River City revival, we started with a baptism service for fifteen people and ended up baptizing sixty-four. People driving by turned into the driveway, walked into the church with their hands in the air, and were born-again. The changing rooms were piled up with people under the power of God, the carpet was drenched, the altars were filled, and it was the most natural thing in the world! This is our destiny!
When the rapture happens, we will just find ourselves going about doing the Father's business, and suddenly, we are transformed and in transition to the Heavenly presence of God. It will be the most powerful suddenly in the Word of God!
MAYBE IT IS TIME TO STOP CHECKING OUR WATCH AND GET TO WORK!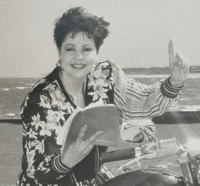 Helen Ivicevich is an Evangelist called to minister to the nation of Australia. Helen began using recreational drugs as a young teenager, joined the Hell's Angels, and suffered a horrible attack. Then she encountered the Lord and His Word. Healing began to flow into Helen's life. She has been preaching in Australia since 1983.