¡La Celebración Trae Elevación!
February 18, 2022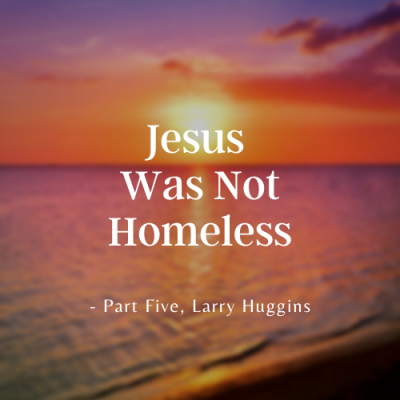 Jesus Was Not Homeless, Part Five by Larry Huggins
February 21, 2022
Mark 12:29-31 Jesus answered him, "The first of all the commandments is: 'Hear, O Israel, the Lord our God, the Lord is one. 30 And you shall love the Lord your God with all your heart, with all your soul, with all your mind, and with all your strength.' This is the first commandment. 31 And the second, like it, is this: 'You shall love your neighbor as yourself.' There is no other commandment greater than these."
1 John 4:7 Beloved let us love one another for love is of God, and everyone who loves is born of God and knows God.
1 John 4:18 There is no fear in love; but perfect love casts out fear, because fear involves torment. But he who fears has not been made perfect in love.
Love is the value we place on a person or thing. Love values to the point of treasuring and becoming devoted in faithful allegiance to the object of value so that we seek the good of and care for the well being of another. The God kind of love begins when we value another equal to or greater than our self. ~ Robert Peck
John 3:16 "For God so loved the world that He gave His only begotten Son…"
Matthew 6:21 For where your treasure is, there your heart will be also.
True love compels to action that seeks another's well-being, and that seeks another's well being at any cost ~ Robert Peck
John 14:15 If you love Me, keep My commandments.
Matthew 6:24 No one can serve two masters; for either he will hate the one and love the other, or else he will be loyal to the one and despise the other. You cannot serve God and mammon.
Revelation 2:4 Nevertheless I have this against you, that you have left your first love.
Romans 5:5 Now hope does not disappoint, because the love of God has been poured out in our hearts by the Holy Spirit who was given to us.
Romans 5:8 But God demonstrates His own love toward us, in that while we were still sinners, Christ died for us.