What Love Really Is
February 19, 2022
Codex Rex series – Jesus Was Not Homeless, Part Four
February 22, 2022
JESUS LOVED SHARING MEALS
Jesus was a wonderful Host who loved hosting his own feasts and who loved being invited to feasts. This is a characteristic of a Bishop. According to 1 Peter 2:25, Jesus is our Bishop. A qualification of a bishop is to be a good host:
A bishop then must be … given to hospitality, (1 Timothy 3:2)
VOICE — welcoming to strangers (allowing them into his home)
Hospitality — Philóxenos: fond of guests, given to and a lover of hospitality.
Philóxenos is an interesting word: It doesn't just mean performing
a social duty but getting great joy from being a host.
JESUS WAS SOCIAL
Many people have a distorted image of Jesus as a lonely figure who spent His days in solitude. Are you sure that's right?
Yes, He indeed spent seven brief times in solitude for prayer. But that's not the whole picture. Jesus spent most of His time in the company of people. He was a people person.
Here are a few of the feasts and meals of Jesus, and they far outnumber His prayer retreats:
Feasts in Jesus' house (plural)– Matthew 9; Mark 2
Levi's prepared a feast at Jesus' house – Luke 5
Wedding at Cana — John 2
Feast at first Pharisee's house – Luke 7
Meal at Simon the Leper's house – Mark 14
Feeding of 4,000 – Matthew 15
Feeding the 5,000 – Luke 9
Mary, Martha, and Lazarus' feast – Luke 10
Feast at second Pharisee's house — Luke 11
Feast at third Pharisee's house — Luke 14
Meal at Zacchaeus' house — Luke 19
Last Supper – Luke 22
Meal with two men at Emmaus (post-resurrection) – Luke 24
Bread and fish on the fire (post-resurrection) – John 21
A CONTRAST OF MOSES' COVENANT AND JESUS' COVENANT
John the Baptist was an ascetic (denying oneself eating and drinking for pleasure). Jesus was not an ascetic:
For John the Baptist came neither eating bread nor drinking wine; and ye say, He hath a devil. The Son of man is come eating and drinking; and ye say, Behold a gluttonous man, and a winebibber, a friend of publicans and sinners! (Luke 7:33-34)
With whom should we identify? With John the Baptist or Jesus? Many people say they are New Testament Christians, but they embrace Old Testament practices. We can't mix the covenants. We can't have it both ways:
For the law was given by Moses, but grace and truth came by Jesus Christ. (John 1:17)
The Apostle Paul made our choice crystal clear:
Christ is become of no effect unto you, whosoever of you are justified by the law; ye are fallen from grace. (Galatians 5:4)
What do we take away from this lesson? Perhaps it's ok to celebrate life? Jesus did!
Here's a question for you: Do you think every meal can be a Covenant meal?
This blog is one of a series of excerpts of my manuscript called Codex Rex — The Book of the King. Your comments and questions will help me improve the manuscript before publication.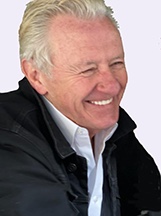 Larry Huggins is a father, a husband, a pastor and a missionary, an author, and a broadcaster. He has traveled to scores of nations, planting churches and bible schools, and conducting seminars and evangelistic crusades.