There's No Condemnation For Sin But There Are Consequences
August 19, 2023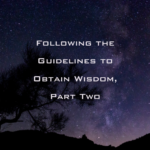 Following the Guidelines to Obtain Wisdom, Part Two by Loretta Huggins
August 24, 2023
Luke 2:52 And Jesus increased in wisdom and stature, and in favour with God and man.
John 6:26 Jesus answered them and said, Verily, verily, I say unto you, Ye seek me, not because ye saw the miracles, but because ye did eat of the loaves, and were filled.
Colossians 2:5 For though I be absent in the flesh, yet am I with you in the spirit, joying and beholding your order, and the stedfastness of your faith in Christ.
Matthew 9:27-29 (KJV) And when Jesus departed thence, two blind men followed him, crying, and saying, Thou Son of David, have mercy on us. 28 And when he was come into the house, the blind men came to him: and Jesus saith unto them, Believe ye that I am able to do this? They said unto him, Yea, Lord. 29 Then touched he their eyes, saying, According to your faith be it unto you.
John 3:2 (KJV) The same came to Jesus by night, and said unto him, Rabbi, we know that thou art a teacher come from God: for no man can do these miracles that thou doest, except God be with him.
1 Corinthians 2:4 KJV And my speech and my preaching was not with enticing words of man's wisdom, but in demonstration of the Spirit and of power: