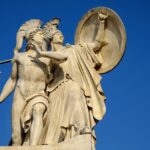 Wisdom of God is a Buckler by Loretta Huggins
October 6, 2023
Inmortalidad – Cosas Que No Sabías
October 7, 2023
ZChurch Message for October 7, 2023 (   • Immortality – Things You Didn't Know  )
In this message, the Holy Spirit with Pastor Larry lifts the veil, revealing our true nature as immortals. Through this revelation, we come to grasp the profound significance this holds for our lives in the present moment.
____________
2 Corinthians 5:13 KJV For whether we be beside ourselves, it is to God: or whether we be sober, it is for your cause.
Philippians 1:23-24 KJV For I am in a strait betwixt two, having a desire to depart, and to be with Christ; which is far better: 24 Nevertheless to abide in the flesh is more needful for you.
1 Corinthians 15:22 For as in Adam all die, even so in Christ shall all be made alive.
John 11:26 KJV And whosoever liveth and believeth in me shall never die. Believest thou this?
1 John 3:2 KJV Beloved, now are we we the sons of God, and it doth not yet appear what we shall be: but we know that, when he shall appear, we shall be like him; for we shall see him as he is.
1 John 4:17 KJV Herein is our love made perfect, that we may have boldness in the day of judgment: because as he is, so are we in this world.
2 Corinthians 5:8 KJV We are confident, I say, and willing rather to be absent from the body, and to be present with the Lord.
Genesis 2:16-17 KJV And the LORD God commanded the man, saying, Of every tree of the garden thou mayest freely eat: 17 But of the tree of the knowledge of good and evil, thou shalt not eat of it: for in the day that thou eatest thereof thou shalt surely die.
Mark 9:45-46 KJV And if thy foot offend thee, cut it off: it is better for thee to enter halt into life, than having two feet to be cast into hell, into the fire that never shall be quenched: 46 Where their worm dieth not, and the fire is not quenched.
John 5:24 NIV Very truly I tell you, whoever hears my word and believes him who sent me has eternal life and will not be judged but has crossed over from death to life.
1 Corinthians 2:15 AMP But the spiritual man [the spiritually mature Christian] judges all things [questions, examines and applies what the Holy Spirit reveals], ye is himself judged by no one [the unbeliever cannot judge and understand the believer's spiritual nature].
Acts 2:4 And they were all filled with the Holy Ghost, and began to speak with other tongues, as the Spirit gave them utterance.
1 Corinthians 14:2 For he that speaketh in an unknown tongue speaketh not unto men, but unto God: for no man understandeth him; howbeit in the spirit he speaketh mysteries.
John 16:13 KJV Howbeit when he, the Spirit of truth, is come, he will guide you into all truth: for he shall not speak of himself; but whatsoever he shall hear, that shall he speak: and he will shew you things to come.
Colossians 2:5 KJV For though I be absent in the flesh, yet am I with you in the spirit, joying and beholding your order, and the stedfastness of your faith in Christ.
Hebrews 12:22-23 KJV But ye are come unto mount Sion, and unto the city of the living God, the heavenly Jerusalem, and to an innumerable company of angels, 23 To the general assembly and church of the firstborn, which are written in heaven, and to God the Judge of all, and to the spirits of just men made perfect,
John 5:24 KJV Verily, verily, I say unto you, He that heareth my word, and believeth on him that sent me, hath everlasting life, and shall not come into condemnation; but is passed from death unto life.
Colossians 2:5 For though I be absent in the flesh, yet am I with you in the spirit, joying and beholding your order, and the stedfastness of your faith in Christ.
John 3:16 For God so loved the world that he gave his only begotten Son, that whosoever believeth in him should not perish, but have everlasting life.