Más Allá Que Tus Sueños Más Descabellados
September 30, 2023
Immortality – Things You Didn't Know
October 7, 2023
PROVERBS: GPS for a BETTER LIFE
Blog 13
WISDOM OF GOD IS A BUCKLER
"A warrior carries his shield [buckler] for the sake of the entire line."
– Plutarch
In ancient times, a buckler or shield was an essential tool for protection during warfare. It was a small, handheld device made of wood or metal that was used to block incoming attacks from swords, arrows, or other weapons. A skilled warrior knew how to use their shield effectively, positioning it to deflect or absorb blows while allowing quick counterattacks. Yet the purpose of the shield was not just for the protection of the individual warrior but for the entire line of soldiers. A soldier's failure to properly utilize their shield could harm not just himself/herself but the whole group.
While we may not face physical warfare as someone serving in the military, we still face numerous challenges and obstacles in our daily lives. These challenges can include financial struggles, relationship problems, health issues, and much more. Just as in warfare, our individual choices and actions can affect those around us. Thus, it is important to prioritize wisdom, that is, to go to God's armory – if you will – of wisdom: "For the Lord has a hidden storehouse of wisdom…" (Proverbs 2:7a TPT). And, "…he is a buckler [shield] to them that walk uprightly" (Proverbs 2:7b KJV).
God's wisdom provides us with the ability to make wise decisions, navigate life's challenges, and protect ourselves, our families, and our friends from harm. Reading the Bible, praying in the Spirit, and seeking counsel from wise mentors are ways to receive God's wisdom: to be safe in His care. It is also important to live a life of integrity – to be trustworthy and honest – ensuring that we do not cause harm to those around us. (Yes, there are exceptions to the rule; however, one should always err on the side of truth.)
In conclusion, Plutarch's quote reminds us that protection and defense are communal responsibilities in our modern life, as were in ancient times; therefore, let us continually seek God's wisdom for the safety of our loved ones and ourselves.
Points for discussion:
1. How does The word communal define your view of family, neighborhood, community, city – the world?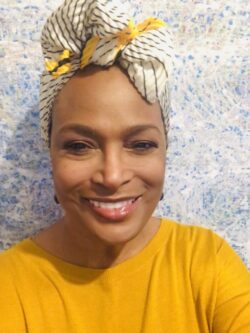 Loretta Huggins, born and raised in San Francisco, CA, has served in the ministry with her husband, Larry Huggins since 1989: administrator, hostess, event planner, and teacher. She has traveled to eighteen countries. She is the co-founder and co-pastor of ZChurch.