Jesus The Throne of David
Jer 23:5 Behold, the days come, saith the LORD, that I will raise unto David a righteous Branch, and a King shall reign and prosper…
Mary Knew He Was the King
Luke 1:31 And, behold, thou shalt conceive in thy womb, and bring forth a son, and shalt call his name JESUS. 32 He shall be great, and shall be called the Son of the Highest: and the Lord God shall give unto him the throne of his father David: 33 And he shall reign over the house of Jacob for ever; and of his kingdom there shall be no end.
Genealogies
Matt 1:1 The book of the generation of Jesus Christ, the son of David, the son of Abraham. 2 Abraham begat Isaac; and Isaac begat Jacob; and Jacob begat Judas and his brethren; 3 And Judas begat Phares and Zara of Thamar; and Phares begat Esrom; and Esrom begat Aram; 4 And Aram begat Aminadab; and Aminadab begat Naasson; and Naasson begat Salmon; 5 And Salmon begat Booz of Rachab; and Booz begat Obed of Ruth; and Obed begat Jesse; 6 And Jesse begat David the king; and David the king begat Solomon of her that had been the wife of Urias; 7 And Solomon begat Roboam; and Roboam begat Abia; and Abia begat Asa; 8 And Asa begat Josaphat; and Josaphat begat Joram; and Joram begat Ozias; 9 And Ozias begat Joatham; and Joatham begat Achaz; and Achaz begat Ezekias; 10 And Ezekias begat Manasses; and Manasses begat Amon; and Amon begat Josias; 11 And Josias begat Jechonias and his brethren, about the time they were carried away to Babylon: 12 And after they were brought to Babylon, Jechonias begat Salathiel; and Salathiel begat Zorobabel. 13 And Zorobabel begat Abiud; and Abiud begat Eliakim; and Eliakim begat Azor; 14 And Azor begat Sadoc; and Sadoc begat Achim; and Achim begat Eliud; 15 And Eliud begat Eleazar; and Eleazar begat Matthan; and Matthan begat Jacob; 16 And Jacob begat Joseph the husband of Mary, of whom was born Jesus, who is called Christ. 17 So all the generations from Abraham to David are fourteen generations; and from David until the carrying away into Babylon are fourteen generations; and from the carrying away into Babylon unto Christ are fourteen generations.
Joseph and Mary were both from the tribe of Judah and descendants of David. Joseph was the son of Jacob, and the son-in-law of Heli (Eli), who was the Father of Mary. In those days, a son-in-law was considered a true, legal son. Therefore, Joseph was a descendant of David by two royal lineages – one by birth, one by adoption. This is significant because Mary was a direct descendant of David through her father, Heli. This is proof of Jesus' Davidic ancestry.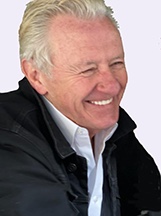 Larry Huggins is a father, a husband, a pastor and a missionary, an author, and a broadcaster. He has traveled to scores of nations, planting churches and bible schools, and conducting seminars and evangelistic crusades.