Why God Asks us Questions
July 20, 2022
¿Qué Tienes en Tu Mano?
July 22, 2022
My lovely wife and I went out to dinner last night, and during our conversation, she shared what our oldest son had said to her earlier in the week. She said, "In so many words, our son has concluded that he has an incredible family life, constantly feeling guided, supported, and encouraged. He feels his upbringing made him the good person he is today and wanted to thank us for this."
Not surprised by his comments, I asked with a smile, "How did he finally come to this conclusion?"
She said, "Over the years, he's listened to all his friends' problems and complaints. Many complain about their parents being too controlling, poor role models, and sometimes abusive. He appreciates who he is because of who we are."
I said, "Amen. We are who we are because of The Good Lord's Word and His guidance. If you pass difficult decisions through His Word, you will have a good outcome because He is Good all the time. That boy has been raised according to The Word since he was born, so I'm glad he's thinking about these things at such a young age. I've talked to so many people over the years about their problems, and I can tell you that EVERY one of these problems can be traced back to someone straying from God's Word."
After a brief pause (mainly because the food was so good), I added, "You know what I like about his comments? I like that we didn't have to pull it out of him. It was a natural result of him reflecting on his upbringing."
As we continued to enjoy our dinner, Proverbs 22:6 kept flashing in my mind:
"Train up a child in the way he should go, And when he is old, he will not depart from it."
‭‭Proverbs‬ ‭22:6‬ ‭NKJV‬‬
And you can't begin to chew on Proverbs 22:6 without first digesting Proverbs 1:7:
"The fear of the Lord is the beginning of knowledge, But fools despise wisdom and instruction."
‭‭Proverbs‬ ‭1:7‬ ‭NKJV‬‬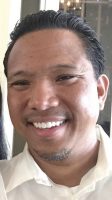 JP Quianzon is the President of the ASD Climber Foundation. He is an American businessman with a passion for serving others and witnessing for Jesus Christ.