A suitable Place to Win #1
September 15, 2022
The Jesus Theorem
September 17, 2022
Have you ever awakened from a dream wondering why on earth did I have that silly dream that makes no sense at all? It has absolutely no connection with any recent event in my life, and I know it was not due to a bad case of indigestion!
I usually don't recall dreams, especially when they make no sense. They're quickly dismissed. However, recently this was happening for a few mornings. For example, right upon awakening, in my dream, my smallest fur friend was flat on his back, relaxed and riding a surfboard across a huge pond-like puddle. It hasn't even rained in California for several weeks now! Needless to say, I was losing peace and becoming rather frustrated. I wanted to be so done with these corny dreams!
Time to take it to the Lord instead of just dismissing them and moving on about my day. Helloooo!
So, the Holy Spirit brought to my remembrance this scripture, especially the last part of Isaiah 50:4 (AMP). I began claiming and declaring it: The Lord God has given Me [His Servant] the tongue of disciples [as one who is taught] that I may know how to sustain the weary with a word. He awakens me morning by morning, He awakens My ear to listen as a disciple [as one who is taught].
After a short period of re-planting that Word inside, I awakened distinctly hearing the words "Invest, invest, invest." Knowing the thought was incomplete, I got my morning coffee and began to worship and pray over those words in tongues, searching and listening. What was God trying to get across to me? It wasn't along the lines I first thought it might have been.
Here's what I received:
Invest, invest, invest your time in Me.
To the Spirit, you'll be sowing,
and there'll come a fresh knowing
And soon you will see
the direction you're to be going
My calling to fulfill, even after you feel
You've sort of been stuck in a standstill.
Be not discouraged, don't give in to dismay,
But rather, lift your voice and say,
I know in my heart I've heard from the Lord. I agree with His word to me.
Then hope will arise and enlighten your eyes
As with joy, clarity of direction, you'll see
Wait, listen, then speak what you hear Me say,
For from your mouth, you'll speak forth the knowing that I am showing,
And surely you'll say, "This isn't just me,
this is higher than my own thoughts or words,
But, Yes, I'll add my faith and agreement with my Father today and what He would say."
Believe it, see it inside, speak it
And water it with words of life that I'll show you.
Then when challenges come, and push comes to shove,
Step back and look how far you've come.
Then you'll pause and rejoice,
and behold, I've made your desires My choice!
I'm working in you, walking with you,
This is how you overcome!
For you see, you're in Me, and I delight in you!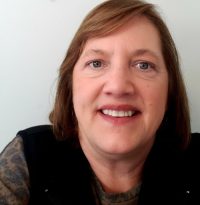 Terri Branham is a wife and mother of two. She lives in California's Central Valley. Terri attended Rhema Bible Training Center in Broken Arrow, Oklahoma in 1977-78. She is a Prayer Leader on the ZTeam.