The Times We Live In
"It was the best of times, it was the worst of times, it was the age of wisdom, it was the age of foolishness, it was the epoch of belief, it was the epoch of incredulity, it was the season of Light, it was the season of Darkness, it was the spring of hope, it was the winter of despair…".
You probably recognize the above quote. It is an excerpt from the opening paragraph of Charles Dicken's book, "A Tale of Two Cities": often cited as the best-selling novel of all time. Dicken's historical fiction takes place in London and Paris before and during the French Revolution.
The State of the World
If you read, watch, or listen to the news in today's world, you will find it appears to be the worst of times. There is a global pandemic, and wildfires are burning in several countries, including the entire West Coast of the United States of America. There are earthquakes, hurricanes, tsunamis, and strange weather patterns. There is inequality, poverty, war, homelessness everywhere, and hungry children around the world. There is unemployment, loss, and fear of what that loss will bring.
The Reality of the Kingdom
Yet, in the kingdom of God, it is the best of times. We have unprecedented opportunities to share the gospel of Jesus Christ around the world as never before. In times past, ministries would share the good news from a church pulpit and through radio or television. Now every single believer can use their voice through social media to speak of the goodness of our God and tell of His great love. We have technologies being used for the gospel's sake that cause Christ's endeavors to happen instantaneously worldwide. We are at the very beginning of another great awakening for those who have yet to come to faith in Christ. Revival is happening in those that need stirring. It is a new era of signs, miracles, and wonders following the preaching of the Word. Where sin has abounded, grace is abounding more. Where darkness and deception have prevailed, we are seeing the light of God shine forth, bringing truth and reality. It is a time to believe, doubting nothing, trusting in the faithfulness of God.
The Surety of God's Word
In what may look like a very dark hour, be encouraged to focus on the opportunities God is setting before you. No matter what happens in this world, let the Word of God have free course in you. God's promises belong to us in Christ. He will not lie. He will never leave us nor forsake us. He will supply all our needs according to His riches in glory in Christ Jesus. He will give us wisdom liberally when we ask. He will lead us by His Spirit. His peace will guard our hearts and minds through Christ Jesus. He will strengthen, help, and uphold us. He has blessed us in Christ with every spiritual blessing in the heavenly places. By His wounds, we are healed. He makes all grace abound to us, grace upon grace, that we may abound in every good work. As we seek, first, His kingdom and His righteousness, things that others spend their life working for are added to us. He is able to do exceedingly abundantly above all that we ask or think, according to the power that works in us. Greater is He that is in us than he that is in the world.
Have we not come to the kingdom for such a time as this?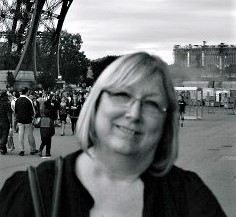 Sharon Stark is a wife, mother, grandmother and worshipper of Christ Jesus. A member of ZChurch and the ZTeam, Sharon has assisted in pioneer works, co-pastored and ministered in Africa and Mexico on short term mission trips. She is a patron of the arts.