Un sólo paso, Manera Infalible de Fluir con Precisión en Dones Espirituales
September 2, 2021
The Arrow of Faith
September 4, 2021
It was the mid-1990's. I was in college, a few years removed from high school. My head was filled with dreams of being a famous singer, so I was utterly distracted with my schoolwork and had a terrible GPA that started with a 1….not kidding. I remember driving over the Bay Bridge on my way to some party, and a voice inside of me said, "If you don't get your act together, you're going to be a loser." Then I remember this overwhelming feeling of strength welled up inside of me. The next thing I said out loud was, "No way. I'm not going to be a loser. I'm smart. I'm talented. That is not an option." From that point on, I transferred to a new school and started to ace all my classes. I became a much better college student than I was in high school, and I still got to enjoy an amazing career as a singer.
That moment was my turning point moment. Back then, I didn't know or follow The Good Lord's Word as I do now- but I can say without a doubt that that overwhelming strength that welled up inside of me was The Lord because He is the Well that never runs dry.
You will never be a loser if you know what The Good Lord's Word says about you:
"But thanks be to God, who gives us the victory through our Lord Jesus Christ."
‭‭I Corinthians‬ ‭15:57‬ ‭NKJV‬‬
"I will lift up my eyes to the hills— From whence comes my help? My help comes from the Lord, Who made heaven and earth."
‭‭Psalms‬ ‭121:1-2‬ ‭NKJV‬‬
Jesus said:
"He who believes in Me, as the Scripture has said, out of his heart will flow rivers of living water."
‭‭John‬ ‭7:38‬ ‭NKJV‬‬
Have a blessed rest of your week, y'all, because Jesus is Alive!!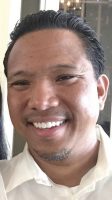 JP Quianzon is the President of the ASD Climber Foundation. He is an American businessman with a passion for serving others and witnessing for Jesus Christ.