The Z Factor
September 18, 2021
Yes, and Amen!
September 25, 2021
You have a path through life that The Good Lord has prepared for you. This path will be littered with obstacles. If you pray hard enough, He will remove most of them. However, there are some obstacles that you're just going to have to outlast and persevere. Some will be like a gigantic block of ice in front of you. You can clearly see your path through them, but you can't break or move them in any way. You're just going to have to trust that as constant heat is applied, they will eventually melt away. In this heating process, your level of maturity and faith is akin to the distance you are from the melting fire. A seasoned veteran knows to step back, let the fire do its work while keeping warm and toasty. A noob will stay close to the fire, trying to add more wood while literally burning themselves up and out. Whoever or whatever is in your way, I encourage you to OUTLAST them!
The Good Lord's Word says:
"For I know the thoughts that I think toward you, says the Lord, thoughts of peace and not of evil, to give you a future and a hope."
‭‭Jeremiah‬ ‭29:11‬ ‭NKJV‬‬
"My brethren, count it all joy when you fall into various trials, knowing that the testing of your faith produces patience. But let patience have its perfect work, that you may be perfect and complete, lacking nothing."
‭‭James‬ ‭1:2-4‬ ‭NKJV‬‬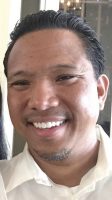 JP Quianzon is the President of the ASD Climber Foundation. He is an American businessman with a passion for serving others and witnessing for Jesus Christ.