A favorite and comforting passage of Scripture is John 14:1-3 (Amp), which reads:
"Do not let your hearts be troubled (distressed, agitated). You believe in and adhere to and trust in and rely on God; believe in and adhere to and trust in and rely also on Me. In My Father's house, there are many dwelling places (homes). If it were not so, I would have told you: for I am going away to prepare a place for you. And when (if) I go and make ready a place for you, I will come back again, and will take you to Myself, that where I am you may also be."
While most generally read with a focus on peace, this time my thoughts kept coming back to "dwelling places, (homes)" that He is making ready for me, taking me to Himself, that where He is, I may also be, and doing the works He does. Our Father, in His great heart of compassion, is absolutely unwilling to do without us!
As I began to read it back to Him out loud, I began to see more through His eyes. What if I could prepare a place for Him? What if I could take Him unto myself, that where I am, He may also be? Without taking this out of context, is that somehow even possible that I could make a dwelling place for the very One who created me, be at home in me, and keep company with me wherever I go? Just what would that look like?
Psalm 22:3 tells us God inhabits (sits down right in the middle of) our praise.
John 15:4-5 exhorts us: "Dwell in Me, and I will dwell in you [Live in Me, and I will live in you.] Just as no branch can bear fruit of itself without abiding in (being vitally united to) the vine, neither can you bear fruit unless you abide in Me.
I am the Vine; you are the branches. Whoever lives in Me and I in him bears much (abundant) fruit. However, apart from Me [cut off from vital union with Me], you can do nothing.
John 15:7-8 "If you live in Me [abide vitally united to Me] and My words remain in you and continue to live in your hearts, ask whatever you will, and it shall be done for you. When you bear (produce) much fruit, My Father is honored and glorified, and you show and prove yourselves to be true followers of Mine."
This day, we can make ready a place for Him. Take time to take Him unto yourself today, that where you are, He may also be. Let His Word dwell in you richly. (Col.3:16) You will find yourself bearing much abundant fruit by the Miracle Grow Master who makes His dwelling/home in you!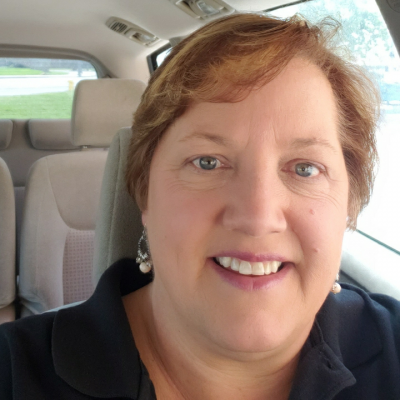 Terri Branham is a wife and mother of two. She lives in California's Central Valley. She attended Rhema Bible Training Center in Broken Arrow, Oklahoma in 1977-78. She is a Prayer Leader on the ZTeam.