The Gospel of Paul – Episode 46
July 15, 2021
The Joy of Serving God
July 17, 2021
When my wife and I first started out as a married couple, I remember I'd say things like this:
"Honey, try not to spend any money this week because we only have $500 in our checking account."
"I don't know how we're ever going to afford a house around here."
Through working hard and praying harder, we recently celebrated over 20 years of homeownership. God is Good!
After we had our first baby, I remember sitting in new minivans and new SUV's at the dealership -and saying things like this:
"With our finances as tight as they are, I don't see how we'd ever be able to afford a new vehicle like this."
Again, through working hard and praying harder – our current minivan was purchased brand new 13 years ago, has been paid off, and is still running strong. God is Good!
When you can't see a way, I encourage you to put in the work and trust in God's vision for your life. When you don't know how this or how that, let God's Word be the hub that your life decisions flow through and know this: God is Good all the time, so He has plans to prosper you all the time. His ways and thoughts are higher than ours, so from His Seat, He sees that raise you've been praying for. He sees that new perfect job you've been reaching for. He sees the healed and restored body your heart desires. So stand up tall and grab what He sees between your clenched hands in daily prayer. Reel those blessings in with the unbreakable fishing line of Faith for God Word says:
"For My thoughts are not your thoughts, Nor are your ways My ways," says the Lord. "For as the heavens are higher than the earth, So are My ways higher than your ways, And My thoughts than your thoughts."
‭‭Isaiah‬ ‭55:8-9‬ ‭NKJV‬‬
"For I know the thoughts that I think toward you, says the Lord, thoughts of peace and not of evil, to give you a future and a hope."
‭‭Jeremiah‬ ‭29:11‬ ‭NKJV‬‬
"Now faith is the substance of things hoped for, the evidence of things not seen."
‭‭Hebrews‬ ‭11:1‬ ‭NKJV‬‬
"If you abide in Me, and My words abide in you, you will ask what you desire, and it shall be done for you."
‭‭John‬ ‭15:7‬ ‭NKJV‬‬
Be encouraged, y'all, because Jesus is alive!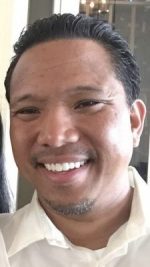 JP Quianzon is the President of the ASD Climber Foundation. He is an American businessman with a passion for serving others and witnessing for Jesus Christ.