In Christ Devotions 4
August 19, 2021
How You Can Harness the Power of God's Search Engine
August 21, 2021
Whenever the song Fantasy by Earth, Wind, and Fire plays on my Pandora or Spotify, I think back about 15 years ago to a gig my band played in Emeryville. We were all hanging out in the parking lot in front of the venue, just chopping it up, cracking jokes. When all of a sudden, a guy rolls into the parking lot on his purple motorcycle blasting Fantasy on his bike's thumping sound system. He was heavyset with a faded black Levi's trucker jacket with the arms ripped off, no shirt, jean shorts, and black flip flops. When he took his helmet off, he sported a glorious mullet with long white hair that matched his long white beard. He literally looked like Santa Clause got into a fight with Prince in Purple Rain. The guy got off his motorcycle in front of us, gave us a thumbs-up, and went into another restaurant near where we were supposed to play. We gave him a thumbs-up back and looked at each other in awe of just how cool this guy was.
For me, it was just one of those funny moments that stands out as a reminder that you can be unapologetically authentic in doing YOU. In many ways, following The Good Lord will make you appear strange and odd to the people around you, just like this motorcycle guy. You will talk differently. You will act differently. You will approach life challenges differently. When people stress out, you become calm. When people begin to gossip, you ask to hear the facts or "zip the lips" and keep it positive. I encourage you to be the best, most unique iteration of yourself in Christ and always remember that your "oddity" is The Good Lord's prized commodity.
The Good Lord's Word says:
"And do not be conformed to this world, but be transformed by the renewing of your mind, that you may prove what is that good and acceptable and perfect will of God."
‭‭Romans‬ ‭12:2‬ ‭NKJV‬‬
"For I am not ashamed of the gospel of Christ, for it is the power of God to salvation for everyone who believes, for the Jew first and also for the Greek. For in it, the righteousness of God is revealed from faith to faith; as it is written, "The just shall live by faith."
‭‭Romans‬ ‭1:16-17‬ ‭NKJV‬‬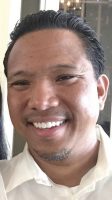 JP Quianzon is the President of the ASD Climber Foundation. He is an American businessman with a passion for serving others and witnessing for Jesus Christ.