Yesterday morning (7:30 am), I woke up with a message on my heart that dreams and reason don't pair well. I thought back to anyone who ever used the "voice of reason" to discourage me from pursuing a dream of mine. Thankfully, this list was very small – and what's even better is I proved each one of them wrong by accomplishing what I told them I would do. When we dream, we envision something for ourselves that may seem unattainable or unreachable by those around us – but the mere fact that we can see it means that that "dream you" exists in your future. In order to accomplish our dreams, our faith must be overwhelmingly stronger than the voice of reason. The Good Lord's Word says:
"Now faith is the substance of things hoped for, the evidence of things not seen."
‭‭Hebrews‬ ‭11:1‬ ‭NKJV‬‬
About 1.5 hours later (9:00 am), I got a text from a friend of mine who sang with me in our church choir. He wanted to know the process of joining the praise and worship team of our church. He said he's been taking lessons for two years and really envisions himself being part of the team. After giving him all of the logistics and details of the auditioning process, I said, "You know what's crazy? Before I spoke to you, I woke up with a word on my heart that said, "dreams and reason do not pair well." So I was going to write about people discouraging us from doing things that we see in our hearts. Then Bam! Here we are texting away about exactly what I was thinking about this morning. That's the Holy Spirit!"
He said, "I was just thinking the same, God's timing. I definitely could use the help and encouragement. God's been moving!"
The Good Lord's Word says:
"But the Helper, the Holy Spirit, whom the Father will send in My name, He will teach you all things, and bring to your remembrance all things that I said to you."
‭‭John‬ ‭14:26‬ ‭NKJV‬‬
"Every good gift and every perfect gift is from above and comes down from the Father of lights, with whom there is no variation or shadow of turning."
‭‭James‬ ‭1:17‬ ‭NKJV‬‬
Have a blessed rest of your week y'all, because Jesus is alive!!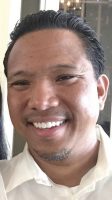 JP Quianzon is the President of the ASD Climber Foundation. He is an American businessman with a passion for serving others and witnessing for Jesus Christ.