In the early 2000s, my church was going through an extremely difficult time. Unfortunately, someone close to the senior pastor convinced him that I was the problem. I was scheduled to preach at our yearly conference. All communication with staff and leadership ceased, and I would have gladly been replaced, but I was scheduled to speak in an hour. I threw my notes in the trash and cried out to God for something to say. Little did I know, it would be the cornerstone of my love walk.
Once again, I heard Jesus say, "Read it as though you are in my shoes…." John 15:12 (AMP) "This is My commandment: that you love one another [just] as I have loved you." John 15:9 (AMP) "I have loved you, [just] as the Father has loved Me; abide in My love [continue in His love with Me]." I say it this way, "This is my commandment that you love one another just as I have loved you, and I have loved you just as the Father has loved me." Repeat….
If you love one another the way the Father loves you, then any issue with someone is a revelation that you don't know how much the Father loves you in that area. We can't change people, nor are we biblically required to maintain certain relationships if they are toxic, so how do we maintain our quality of life if the only constant, unchangeable relationship always remains, the Father and you? We walk away from toxic people without baggage if we see them through the Father's eyes and leave them in the Father's care.
This one scripture will change your life forever when the Holy Spirit gives you revelation knowledge; it's John 14:31. Jesus went to the cross to show the world that He (Jesus) loved the Father. I know he loved us, but he died to show the world he loved the Father. How can we walk "in His shoes" if we are not motivated by the same love he had? I can love the unlovely because it is my way of showing the world that I love the Father.
I can still hear Jesus' voice, "Put on my shoes, Helen, and show him how much I love him."
We are the abstract art of God's love displayed as an example of His Righteousness. He paints us every day with new mercies. The book Hebrew Honey defines the anointing as "to paint with colors." The human eye sees 3% of the spectrum of light; I wonder what we look like through His eyes? Eph 1:4 says, "we are blameless in His sight." Zech 9:16 "For they shall be like the jewels of a crown." We are living jewelry, refracting the light of His Glory.
Do you want to go to an art gallery over Christmas? Fellowship with your brothers and sisters in Christ, attend church. Look at everyone as living works of art, purchased by the blood of the Lamb. Listen to the song of the blood as it speaks better things about you. I can't wait to see how He has painted you, and I will be wearing my best Canvas!
Artist: @Wendy Manzo, wendymanzo.com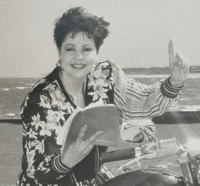 Helen Ivicevich is an Evangelist called to minister to the nation of Australia. Helen began using recreational drugs as a young teenager, joined the Hell's Angels, and suffered a horrible attack. Then she encountered the Lord and His Word. Healing began to flow into Helen's life. She has been preaching in Australia since 1983.