El Día de Gracia
February 3, 2022
Fight the Fight of Faith
February 5, 2022
"All the world's a stage, And all the men and women merely players …" from As You Like It by William Shakespeare (circa 1599).
Some years back, there was a New York Times #1 bestselling book titled, A Purpose Driven Life, that was the talk of the town on both main street Christendom and main street secular America.
I wasn't attending church at the time but had gotten wind of the book from some Christian friends and relatives urging me to take it for a spin; so, at a family Thanksgiving gathering in Chicago some ten years past, a relative handed the book to me. I opened it up to the first page and read the first sentence: "IT'S NOT ABOUT YOU." I then closed the book, turned to my cousin, and said, "But doesn't the Bible say, [For God so loved the world…]?"
I never did get passed that first sentence.
"Always on My Mind" by Wayne Carson (circa 1971)
Recorded by Elvis Presley (1972) & Willie Nelson (1982)
I don't know about you, but every time I open my Bible, I'm impressed with an overwhelming realization that God just can't seem to get his mind off of me. Have a gander at these verses:
"What is man, that thou art mindful of him?" (Psalm 8:4;) 1 John 4:19, "We love because he first loved US"; or the story of the blind beggar in Mark 10: 46-51, who cried out to Jesus for mercy and was greeted with this response, "What do you want Me to do for YOU?" And my favorite, Romans 8:31, "If God be for US, who can be against us?"
"I Can't Stop Loving You" by Don Gibson (circa 1957 – RCA Records
God is Love. Do you think it possible for him to stop loving his creation? Consider, for example, God's reaction to Adam and Eve after he discovered they had disobeyed his WORD (instructions).
For starters, he didn't curse them. He didn't demand they repent. He didn't condemn them. Instead, he simply explained how their world would become a harsh wasteland of God-forsaken tribulations. And then he clothed them.
"To Be or Not to Be…" from Hamlet by William Shakespeare (circa 1601)
Ever notice how fast things went downhill for Adam and Eve after their encounter with the sudden appearance of an uninvited guest in their garden? This unwelcome intruder spoke to them of a heretofore unheard-of philosophy: "The art of doubting God." Imagine that; – a new belief system. Had they only just stopped at the listening part, things would be quite different for all of us today. It looks like the power of agreement works both ways.
I can't imagine anything like that ever happening again, at least not on that grand of a scale. I can just hear the entire world taking part in a collective global gasp while muttering under its breath, "Have you lost your mind!?!?
Kind of makes you ponder, doesn't it … on the wonder and power of words?
God has a lot to say about words. Here are just a few snippets for you to muse over:
"My son, attend to my words; incline your ear unto my sayings. Let them not depart from your eyes; keep them in the midst of your heart. For they are life unto those that find them, and health to all their flesh. Keep your heart with all diligence; for out of it are the issues of life." (Proverbs 4: 20-23)
"And the WORD was made flesh, and dwelt among us…" (John 1:14)
"I have given them your WORD and the WORLD has hated them; for they are not of the world, just as I am not of the world." (John 17:14)
"In the world, you shall have tribulation: but be of good cheer; I have overcome the world." (John 16:33)
The Word vs. the World
Where do you see yourself in the big picture? What's your present locale? Are you happy staying on the World's stage, forever remaining a two-bit actor reciting the same old script that'll keep you running in place ad infinitum? Do you enjoy sounding like a broken record, mindlessly rehearsing worn-out cliches fed to you by the god of this world, aka the prince of the power of the air?
Is this the Now You: "Nobody loves me." "I'll never get ahead." "Why did God let this happen to me?"
Read the Shakespearean quote again at the top of this blog. Not very complimentary, is it? Who knows what Shakespeare's beliefs were when he wrote that; regardless, would you agree that statement deftly sums up the futility of life?
"BE NOT CONFORMED TO THIS WORLD…" (Romans 12:2)
Enter the Apostle Paul. Paul was radical in his beliefs. The statement above speaks to that. Imagine the controversy this created in his day. And it's still controversial today! Say goodbye and good riddance to your old thought life. Lose your mind and replace it with the mind of Christ!
Easy to implement? No. But you'll find the instructions easy to follow. Simply throw out the old script and start reciting your new script. You'll find it in your Bible, i.e., the Word of God. They don't call it the scriptures for nothing, you know.
Christ In You
God has a new purpose for you. He doesn't want the World occupying your thought life and shaping your destiny. He wants his Word occupying you and shaping your destiny.
Can you see it now? His purpose is His Word. He doesn't want you World-driven. He wants you Word-driven: His Word in you, your hope of glory.
Now imagine the New You: "I am not of this world; therefore, I have no limitations." "I am the righteousness of God." "I am more than a conqueror." "I am complete in him."
Isn't it time you retired your old self and quit the devil's theatre of the absurd? There's a new you waiting for your arrival over at God's Theatre of Grace. You'll be happy to hear there are no auditions. You've already been accepted! What's more, you're not required to bring a thing. Your new stage has been set, and it comes replete with all the fittings, trappings, props, and costumes necessary to put you over the top.
"All the WORD's a stage, and every believer an overcomer…" by Chris Holm (circa 2022).
To God be the Glory.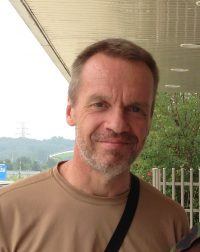 Chris Holm has been living in Japan for 30 years. His passions include traveling, studying Japanese, and conversations with his Japanese wife, but not necessarily in that order. Chris is now fully woke to the righteousness of God, His grace, and His goodness – He's done it all. Chris is a ZChurch happy camper.