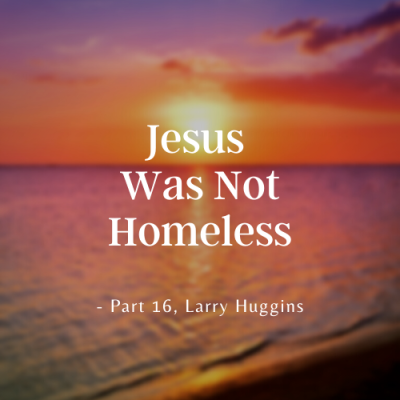 Jesus Was Not Homeless, Part 16 by Larry Huggins
April 21, 2022
Building Yourself Up On Your Most Holy Faith
April 23, 2022
Claim Your Inheritance
Your earthly inheritance includes anything and everything Jesus possessed on this earth. Through his death and resurrection. As it says in Romans 8:17, We have become heirs of God and joint-heirs with Christ. This is what we call the substitutionary sacrifice of Christ.
Jesus was willing to sacrifice Himself so we might receive our inheritance, now, in this life.
Jesus had a grand house, on the shore of Lake Galilee. Therefore, you can claim a grand house of your own as your inheritance.
But he shall receive an hundredfold now in this time, houses, and brethren, and sisters, and mothers, and children, and lands, with persecutions; and in the world to come eternal life. (Mark 10:30)
Did you ever think about this? Your house can be a hundred times better than anything you once thought possible!
It would be an insult to Jesus to shun the blood-bought blessings of God because of persecution or criticism. Never allow others to set limits for you.
Examine yourselves, whether ye be in the faith; prove your own selves. (2 Cor 13:5)
The Battle is in the Mind
For the weapons of our warfare are not carnal, but mighty through God to the pulling down of strong holds; Casting down imaginations, and every high thing that exalteth itself against the knowledge of God, and bringing into captivity every thought to the obedience of Christ. (2 Cor 10:5)
·Tradition says Jesus was poor — The Word says He was rich
·Tradition says He was a carpenter — The Word says He was a King
·Tradition says He was homeless. — The Word says he lived in a mansion
·Tradition says we should accept less. The Word says we can have more
Here's the Summary
The Bible is the last will and testament of Jesus Christ. It should be studied as an executor would study a will, making sure all the heirs receive everything that's due them.
If Jesus died for us to have abundant life, then we should live to enjoy our abundance. Don't let anyone rob you of your birthright.
Jesus is the executor of His own will and testament, but He had to die before his heirs could receive their inheritance. The brilliance of God's plan is, that He rose from the dead so we could enjoy our inheritance with Him. We can have our cake and eat it too!
And for this cause, he is the mediator of the new testament, that by means of death, for the redemption of the transgressions that were under the first testament, they which are called might receive the promise of eternal inheritance. For where a testament is, there must also of necessity be the death of the testator. For a testament is of force after men are dead: otherwise, it is of no strength at all while the testator liveth. (Heb 9:15-17)
Pour over the will of God. Discover everything that the last will and testament of Jesus Christ has guaranteed you. Place a demand upon your inheritance, by faith, and live within your rights and privileges.
Then, should people question your blessings — your wardrobe, your wealth, your house — answer this way: My elder brother, the King of Kings, died and left these for me as my inheritance.
Here's a question for you: Does your happiness reside in someone else's head?
This blog is one of a series of excerpts of my manuscript called Codex Rex — The Book of the King. Your comments and questions will help me improve the manuscript before publication.
This concludes the first part of the Codex Rex manuscript blogs. Next, I will share blogs from the second part of the manuscript – The Kingship of Jesus.