¡Sea la Luz!
August 10, 2023
The Great Substitution!
August 12, 2023
This weekend, I had the pleasure of spending three days with my extended family, celebrating the life of my recently deceased father-in-law. It was a wonderful time of laughter, crying, eulogizing, and just making a joyful noise about an awesome man of God. As I gather my thoughts and emotions, I'll write more about this great man, but I wanted to share a cute story of one of my little nieces, who I believe will develop into a pro singer.
I've heard my niece sing several times at family parties, and every time, I've come away impressed with her stage presence, vocal control, and overall "it" factor. After every performance, I've talked to my niece and her family, telling her how awesome she is and that she has pro potential if she keeps practicing. But I realized she didn't know I sang too, so my words didn't carry the weight they should with her.
This brings me to this weekend's celebration of my father-in-law's life. I sang a song on Saturday during his eulogy, which my niece didn't get to see. Then, I was asked to sing a song on Monday at the reception, where the entire extended family was in attendance, including my niece. Strangely enough, this spirit of timidity and exhaustion came over me, and I suddenly didn't feel like singing. I even told my brother-in-law that I think I'll pass on singing for today, which is completely out of character for me.
At that exact moment, my niece went to the speaker system area with my other nieces. I told myself, "Pa Rudy (my father-in-law) would've wanted me to sing this song for his grand-niece." So I snapped out of my daze, and right before it was my time to sing, I walked over to my niece and said, "I'm going to sing a song. Can you give me some pointers afterward and tell me how I do?" She gave me a thumbs up and nodded her head. While singing, I could see my niece off to the right, watching me intently and jumping up and down. After I finished singing, I asked her how I did, and she said, "I give you a 100 out of 100 because you sound like a pro." I pointed to her vocal cords and said, "Oh, Thank you so much! I know you're going to be a pro, too. You have the same gift as me."
I noticed she was crying a little later, so I asked what was wrong. She said, "They want me to sing, but I didn't practice anything." In talking to her mom, I learned that she doesn't like being caught off guard when it comes to performing, which I told the mom is yet another trait of a future pro. At the end of the reception, I sat down next to my niece and said, "Can you do something for me?" She asked, "What is it?" I said, "I want you to pick your favorite song, practice it, and have it always ready so you don't have to be nervous when people ask you to sing on the spot. Ok?" She gave me a thumbs-up and said, "Ok!"
Not having a daughter of my own and reflecting on how this story developed, I feel extremely blessed to have had this super cute interaction with my niece.
The Good Lord's Word says:
"Do not let any unwholesome talk come out of your mouths, but only what is helpful for building others up according to their needs, that it may benefit those who listen."
‭‭Ephesians‬ ‭4‬:‭29‬ ‭NIV‬‬
"Start children off on the way they should go, and even when they are old, they will not turn from it."
‭‭Proverbs‬ ‭22‬:‭6‬ ‭NIV‬‬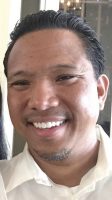 JP Quianzon is the President of the ASD Climber Foundation. He is an American businessman with a passion for serving others and witnessing for Jesus Christ.