Study to show yourself approved unto God, a workman that need not be ashamed, rightly dividing the word of truth.
II Timothy 2:15
As I see it, there are primarily three reasons we Christians have a tendency to backslide. Let's examine each one in the order that they appear in the bible:
1. We fall from grace. Galatians 5:4
"Christ is become of no effect unto you, whosoever of you are justified by the law: you are fallen from grace."
2. We shipwreck our faith. I Timothy 1:19
"Holding faith, and a good conscience, which some having put away concerning faith have made shipwreck."
3. We forget. II Peter 1:9
"But if you don't grow, you are like someone who is nearsighted or blind, and you have forgotten that your past sins are forgiven."
Galatians 5:4
Someone who has fallen from grace has simply forgotten what it says in 2 Corinthians 5:21:
"For he hath MADE him to be sin for us, who knew no sin; that we might be MADE the righteousness of God in him."
You may have noticed no effort was required on your part in becoming righteous. It's a gift. Quit trying so hard to get God's attention by trying to establish your own righteousness and begin, once again, to enjoy the unbearable lightness of His Grace.
1 Timothy 1:19
What is a good conscience? Can we conclude if there is a good conscience, then the converse must also be true? Is someone who has shipwrecked their faith simply someone who has reverted back to their default mode of thinking – that of thinking like a mere mortal or unregenerate man?
James 1:8 talks about a double-minded man being unstable in all his ways. Might he be referring to someone who flits back and forth between a sin consciousness and a righteousness consciousness?
People who have shipwrecked their faith haven't lost their faith: it's just shipwrecked. You can right your ship and set sail again simply by aligning your thoughts to the Word of God and embracing, once again, a righteousness consciousness.
II Peter 1:9
Because we still live in a fallen world and were born into sin (that's not our fault), our default mode of thinking is carnal, worldly or earthly, temporal. This is nothing to beat yourself up about: it is the way it is.
I can only speak for myself, but I wake up every morning not feeling in the least bit holy. What's the solution, then? According to the Apostle Peter, it's REMEMBERING.
Peter writes, "I will not be negligent to put you always in remembrance of these things, though you know them. And again, in the very next verse, "Yea, I think it meet, as long as I am in this tabernacle, to stir you up by putting you in remembrance; and yet again, just two verses later: "Moreover, I will endeavor that you may be able after my decease to have these things always in remembrance." And yet again in Chapter 3, verse 1 of Second Peter, "…I stir up your pure minds by way of remembrance."
Well, Peter is no longer with us; so whose job do you think it is now to ALWAYS put ourselves in remembrance of this spiritual truth:
We have been purged of our sins!
I believe with all my heart that there is one reason and one reason only why God wants us to read His Word. And the secret is in the scripture at the top of this blog. Do you see it?
The three examples of a backslidden Christian are examples of people who had forgotten that God had made them right in His eyes. They simply forgot. That's all. Nothing less. Nothing more.
God made us. We are His handiwork. Is it logical to think He wouldn't approve of His own handiwork? Of course not.
HE APPROVES OF YOU!
He only asks that we take the time each day to show ourselves that He, in truth, approves of us. That's our assignment, our homework: rightly dividing the word of truth; and in doing so, you will have proved yourself to be a good workman that never had any reason to be ashamed (of who you are in Christ) in the first place.
Can God really be that good? I would wager that you would be hard-pressed to find passages of scripture where God expressly expresses His disapproval of you. Isn't that the devil's job? After all, Satan is the accuser of the brethren. That's his job description. And when he comes around to shame you, throw the Book at him and say this: "Mr. Devil, the only thing God condemns is sin in the flesh!" (Romans 8:3) And then ignore him, by offering to God a sacrifice of praise. "Through Jesus (the Word), therefore, let us continually offer to God a sacrifice of praise." Hebrews 13:15
That's our homework, the only task God has assigned to us. How hard can that be?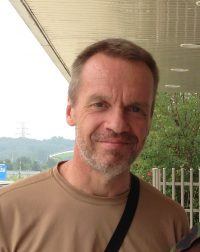 Chris Holm has been living in Japan for 30 years. His passions include traveling, studying Japanese, and conversations with his Japanese wife, but not necessarily in that order. Chris is now fully woke to the righteousness of God, His grace, and His goodness – He's done it all. Chris is a ZChurch happy camper.